Undersized, Underestimated ​ Unstoppable: The Inspiring Story of Sam Mills
Super Bowl 50, between the Carolina Panthers and the Denver Broncos, is rapidly approaching. In this post, I would like to highlight one player on the Panthers defense that personifies the reasons why a kid from New Jersey is a Panther fan!
If you have been scrolling around on social media you have probably seen #keepounding on posts about the Super Bowl or anything to do with the Panthers organization. Many people are unaware of the origins of this slogan. Hopefully by the end of this post, you will have a whole new respect for these words and the Panthers organization as well.
The Man behind the Motto
Sam Mills Jr –A 5 foot 9 linebacker from Long Branch, NJ was a phenomenal, two sport athlete at Long Branch high school . He excelled in both football and wrestling. Despite his success on the gridiron, Mills was over looked by major college programs because of his small stature.
In 1977, Mills walked on at Montclair State University where he continued to thrive and excel. In his four year career at Montclair, Mills set the record for career tackles with 501 and for tackles in a season recording 142 tackles in just 22 games. After college, Mills was able to get a tryout with the Cleveland Browns but was unsuccessful in making the team.
After being cut from the Browns, Mills tried out for the Toronto Argonauts, a team that was part of the Canadian football league where he was cut yet again.
In 1983, Mill landed a position in United States Football League or (USFL) with the Philadelphia Stars. Here, he was able to be a part of a tremendous defense that only allowed 204 points in 18 games.
It's hard to explain just how amazing Mills was, so allow me to show you. Below is a video featuring Mills and what he meant to the Stars organization.
[NFL
Sam Mills got his first job in the NFL in 1986 with the New Orleans Saints. In 1989, Mills led the team in tackles as a key member of the legendary Dome Patrol, a nickname given to the linebackers of the Saints . He was also chosen for the Pro Bowl three times as a member of the Saints. Mills' head coach with the Saints and the Stars, Jim Mora called him "the best payer I ever coached".
In 1995, Mills became a member of the newly created Carolina Panthers. Mills immediately made an impact for the team by snagging an interception and returning it for a touchdown to help secure the Panther's first victory in franchise history .
Mills also had a key interception against the Dallas Cowboys, which helped the team win the Division in 1996. Mills became one of three players to be inducted into the Panthers Hall of Fame in 1998.
The legacy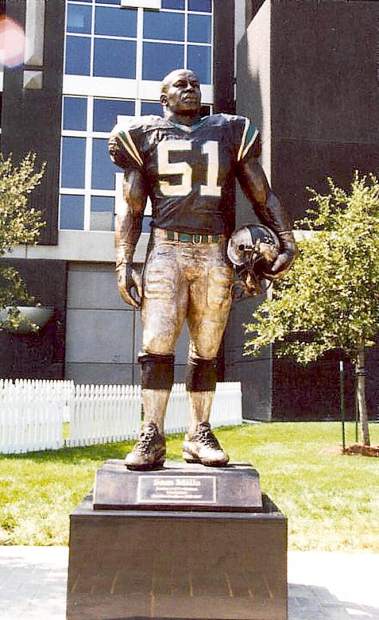 In 2003, Mills was diagnosed with intestinal cancer and was given two months to live. At the time, he was working as a linebackers coach with the Panthers. Mills kept coaching while battling cancer the entire season. That year, the Panthers went 11-5 and earned a playoff spot. The eve before the panthers faced the Dallas Cowboys in the NFC wildcard game, Mills delivered these inspiring words.
"When I found out I had cancer, there were two things I could do — quit or keep pounding. I'm a fighter. I kept pounding. You're fighters, too. Keep pounding!"
With "keep pounding" as a rallying call, the Panthers were able to advance to the first Super Bowl in their team's franchise history. These words didn't just inspire the Panthers. As the story of Mills and his speech spread, these words began to inspire people from all over the nation.
Impact
In 2003, the Panthers created the "Keep Pounding Fund" which has raised more than $1.4 million for cancer research .
After the coin toss at each Panther home game, a person who has overcome adversity is tasked with hitting a six-foot Keep Pounding drum four times to represent four quarters of play. These people have been anyone from military veterans to cancer patients.
On a personal note, I would just like to explain how Sam Mills has inspired me. My Dad played football with Sam at Montclair, so I heard the words keep pounding a lot growing up.  I identified with that mentality of never giving up, so it's no shock that I became a fan of the Panthers a team that embodied that attitude. I want to keep pounding just like Sam did until his death in April 2005, 17 months after he was given his two month diagnosis.
I don't know who will win this Sunday, but I do know that the Panthers will Keep Pounding until the last whistle.
That's it for this post. Be sure to like our Facebook page and to follow us on Instagram using the icons below.