Mychal Cooper: Leadership By Example
On the hallowed grounds of Gettysburg, Pennsylvania, Midshipman football Captain Mychal Cooper, earned one of the highest honors for a Navy athlete. At the annual leadership retreat, 33 of his fellow Navy sports Captains voted him Captain of the Captains. The Captain of the Captains is the face and voice of student-athletes at the Naval Academy to the administration and the public. This honor, bestowed on him by his peers, personifies his exemplary leadership skills and team attitude.
The Journey to Annapolis
Mychal Cooper's approach to leadership was molded by his upbringing. His stepfather, Jon Arnold, was injured in Iraq, losing his leg in a grenade attack. Cooper watched as Arnold refused to let anything slow him down after the loss of his limb. His stepfather worked to earn both his bachelor's and master's degrees while continuing to support his family. Learning from Arnold's example of hard work and dedication, Cooper began to excel as a leader on the football field.
As a high schooler, Cooper showed he could lead by becoming captain of the football team at Taft High School while garnering offers to play wide receiver from schools like Air Force, Nevada, and New Mexico. He ultimately settled on Annapolis.
Go Navy Beat Army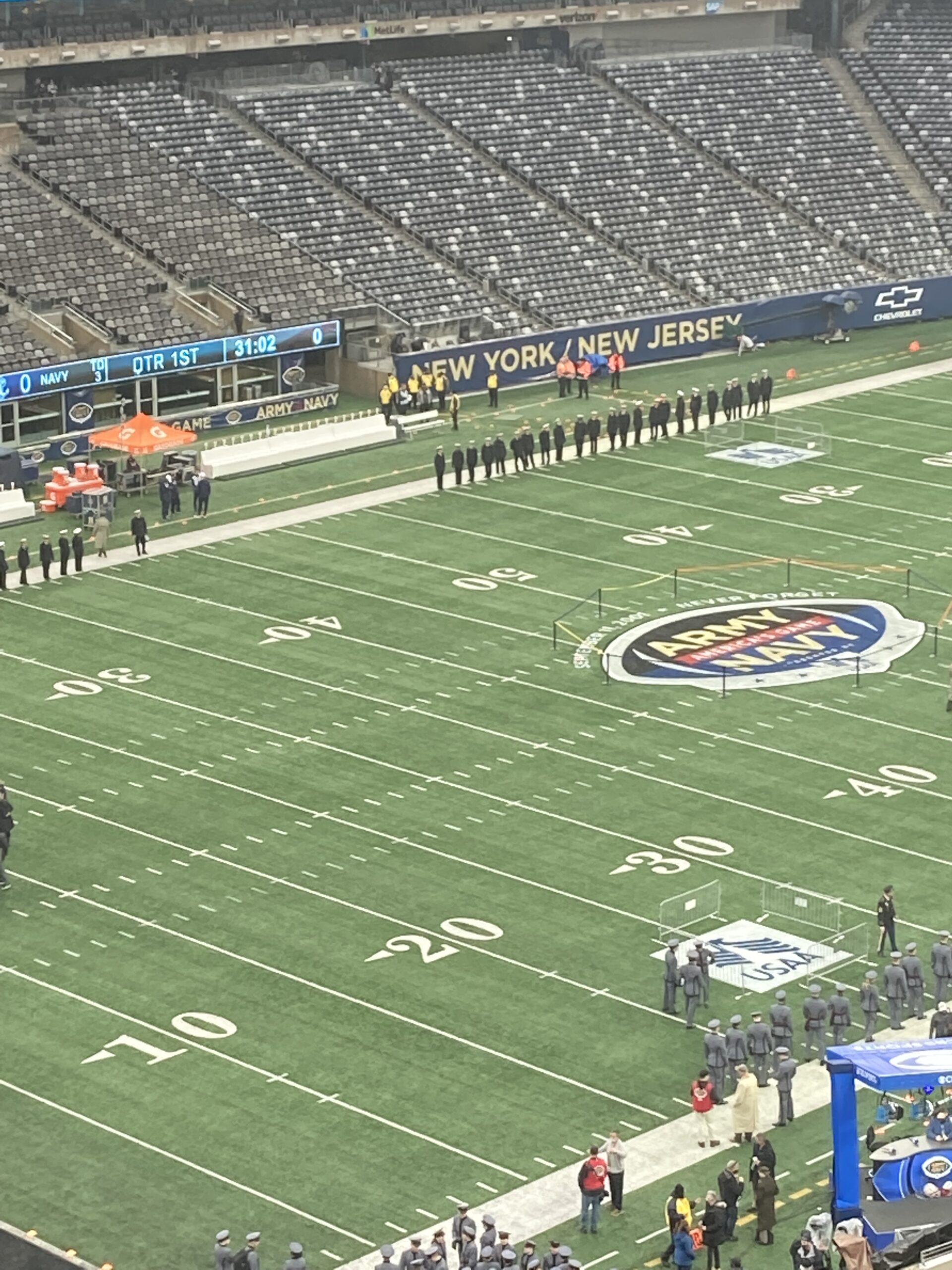 When being recruited to a division one program as a wide receiver, many of us would imagine catching touchdowns in front of thousands of screaming fans, not throwing blocks so your running backs could find a hole and move upfield. While this is a role that some star players would look down on, it is a job that Cooper relishes.
"You have to have pride in everything you do," Cooper told the Washington Post. "As a receiver, you have to be just as excited to catch a ball, catch a touchdown as you are to block for somebody catching the ball, block for somebody running a touchdown."
This attitude is not overlooked by the Navy coaching staff or his teammates. Slotback Chance Warren told the Washington Gazette that it is Cooper's blocking that makes many of his plays successful.
"Blocking is Coop's calling card," said Warren. "He has gotten me into the end zone so many times. You look at any touchdowns I've scored, you will see No. 3 out there blocking for 15 or 20 seconds."
Even though Navy's offense is based primarily on the run, Cooper has proven that he is explosive when he gets the ball through the air. Over the past four years, he averaged 19.4 yards per catch and has accumulated over 900 total yards on offense.
Cooper showcased both his blocking and catching ability during the 122nd Army-Navy Game at Metlife Stadium on Saturday, a game in which they defeated their rival Army 17-13 using a combination of a strong rushing attack and a few well-timed passes to keep Army off balance. Cooper led the Midshipmen through the air, hauling in one pass for 28 yards.
After the victory, Navy Head Coach, Ken Niumatalolo, commended his captains and other seniors on their leadership throughout a tough game and challenging season. 
"I just love my team. I told our captains and our seniors that I have been coaching 31 years, 24 years at the Naval Academy, which prides itself on being the premier leadership institution in the world. And I don't know if I have seen a better display of leadership than I saw from our seniors. Things didn't go well. We had a lot of close losses to tough teams. A lot of people saying things. But they kept our team together. I was just impressed with every week they came to battle. Every week they kept leading. I just told them I know they are going to make great officers, but more important they are going to make great husbands and fathers."
Takeaways
Mychal Cooper is a shining example of what true leadership is. Cooper does the little things on and off the field that will help his team get closer to winning. When asked about his role as Captain of the Captains this season, Cooper had a humbling response.
"It was an honor, but I let everybody know that anybody could have been captain of captains, he said. I'm not the best Midshipman, I'm not the best athlete out of any of these groups. I just hope to get to know everyone a little bit more and rely on them throughout the year."
Cooper's approach to leadership shows us that we often don't have to be the best to have the biggest impact in our jobs, schools, and communities. We just have to be willing to do the hard work that will put those around us in a position to win.
That's it for this post. If you like what you read, you can follow us on Instagram and Facebook using the buttons above. If you would like to help us create more inspiring content, you can donate to Greater Than The Game using the button at the bottom of the site.