Eagles Defensive End Chris Long Tackles Education Inequality and More
We have all heard people say that professional athletes shouldn't make a million dollars for catching a ball or hitting a home run. While those people may be right, they might feel a little better when they hear the story of Philadelphia Eagle's Defensive End Chris Long.
As a Defensive End, Long has one job; sack the opposing quarterback and stop the run game. Long has been doing a great job at that this year. His pass rush is one of the big reasons why the Eagles are ranked fourth in the NFL in total yards allowed. While Long has become a leader on the field, it is his work off the gridiron that is making people take notice.


Putting your money where it can make a difference.
At the beginning of the season, Long announced that he would donate his first six checks to charities involving education. According to Sports Illustrated, those six checks are going to provide scholarships for two students in his hometown of Charlottesville, Virginia. After the first six weeks of the season, Long continued his commitment to education in the United States donating his last ten checks to charities in Boston, St Louis, and Philadelphia. The city that raises the most money will get Long's $500,000 signing bonus. Even President Obama was impressed with Longs efforts.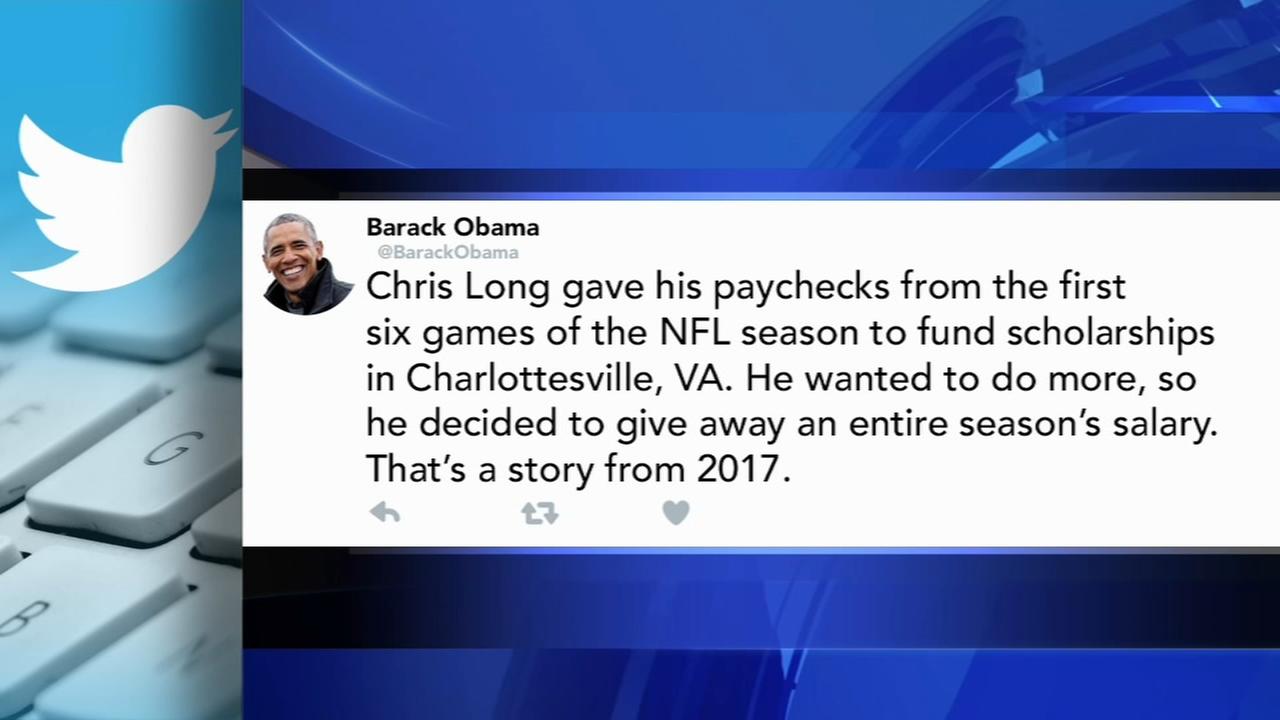 That's not all.
Every year, Long and former Seahawk long snapper and veteran green beret, Nate Boyer, take a group of disabled veterans and NFL alumni to Climb Mount Kilimanjaro to raise money for Long's Waterboys charity. This organization is dedicated to providing clean water for the people of East Africa. Together, Long and others have dug 30 wells in the country of Tanzania. Take a look at what Waterboys is all about.
https://www.youtube.com/watch?v=pYHDg9BuKPA


Social issues … yeah, he's working on that too.
Source
If that's not enough to make you root for Chris Long, hopefully, this will. By now we all know about the Anthem protest. One of the biggest supporters of the movement is Long's teammate Malcolm Jenkins. The game after the attacks in Charlottesville, Long was seen putting his arm around Jenkins during the anthem. While this may seem like a small gesture, for Long's teammates it meant a lot.When asked about the gesture, Long told ESPN.com
"I was inspired by a lot of the allies that were there to stand up against hate in my hometown, and I wasn't able to be there to protest or to stand up against hate. People like Heather Heyer gave their lives for that, and I was inspired by that," he said. "So it's just telling Malcolm, I am here for you, and I think it's a good time for people who look like me to be here for people fighting for equality."
In 2015, Long was playing with the St. Louis Rams. One day, while riding a bus to the stadium, Long and his teammate, William Hayes, passed two homeless people. The two players wondered if they would be able to last a night on the street. To gain perspective, they decided to see what it would be like.
To Check out their experience click here
We all know there are a lot of problems in the world; it is important to remember that there are good people out there who are trying to make a difference. Please click on the charity's where mentioned in the article if you would like to donate to any of Chris Long's great causes.
Thats it for this post. Be sure to like our Facebook page and to follow us on Instagram using the icons below.