Adidas Pays Tribute to Cancer Fighter and Canadian Hero Terry Fox
Today Adidas paid tribute to endurance athlete and Canadian hero Terry Fox. Forty years ago, Fox had one mission; raise as much money as possible for people who are battling cancer. Four decades later, the effects of his Marathon of Hope can still be felt around the world.
Who Is Terry Fox
Terry Fox was born July 28th, 1958, in Winnipeg, Manitoba. Growing up, Fox loved sports. He was especially fond of basketball. He wasn't the best athlete on the floor, but he always worked the hardest. His middle school basketball and cross country coach, Bob McGill, described him as "the little guy who worked his rear off." As an eighth-grader he got one minute of playing time the entire season. By the time he was in 10th grade, he was a starter on the high school team and one of the team's best players. After graduating, he went on to play basketball at Simon Fraser University in British Columbia. A teammate at SFU explained that in tryouts, Fox beat much better players by "out-gutting" them. It was this grit and determination that would inspire millions later on.
The Marathon of Hope
When Fox was 18, he was diagnosed with cancer, and a malignant tumor was found in his right leg, causing it to be amputated. The night before his surgery, Bob McGill brought him a magazine that featured an amputee with a prosthetic leg running the New York Marathon. This article gave him the hope that he would one day run again.
It was his treatment that forced  him to turn his dream into a reality. After seeing others battle with cancer, he was determined to do something to help. He decided to raise money by running across the country. He trained for 15 months, starting with a half-mile per day. He didn't stop until he could run 23 miles  in a day. Throughout his training, he ran 3,159 miles and on  April 12th , 1980, he began his journey across the country. 
Fox made it 143 days, averaging 26 miles a day, before a mass in his lung was found. By this time, he had run through six provinces and was over halfway home.
On June 28th, 1981, Fox passed away at the age of 22.
The ramifications of one man's battle for a cure can still be felt. What started as a goal to raise $1 million has blossomed into an organization that has raised $800 million for cancer research.
Adidas and Terry Fox
A year before Terry Fox began his journey, he wrote a letter to Adidas asking for sponsorship and 26 pairs of shoes. In the message he explained his motives behind the run.
"I was rudely awakened by the feelings that surrounded and coursed throughout the cancer clinic. There were the faces with the brave smiles and the ones who had given up smiling. There were the feelings of hopeful denial and the feelings of despair. My quest would not be a selfish one. I could not leave knowing these faces and feelings would still exist, even though I would be set free from mine. Somewhere the hurting must stop… and I was determined to take myself to the limit for this cause."
Adidas ended up sponsoring him, and in 2020 they are still dedicated to his cause. On May 20th, 2020, Adidas released replica shoes, the same that Fox wore while running. They also released a commemorative t-shirt. All proceeds from the sales go directly to fund cancer research. If you would like to donate to the Terry Fox Foundation, please click on the link.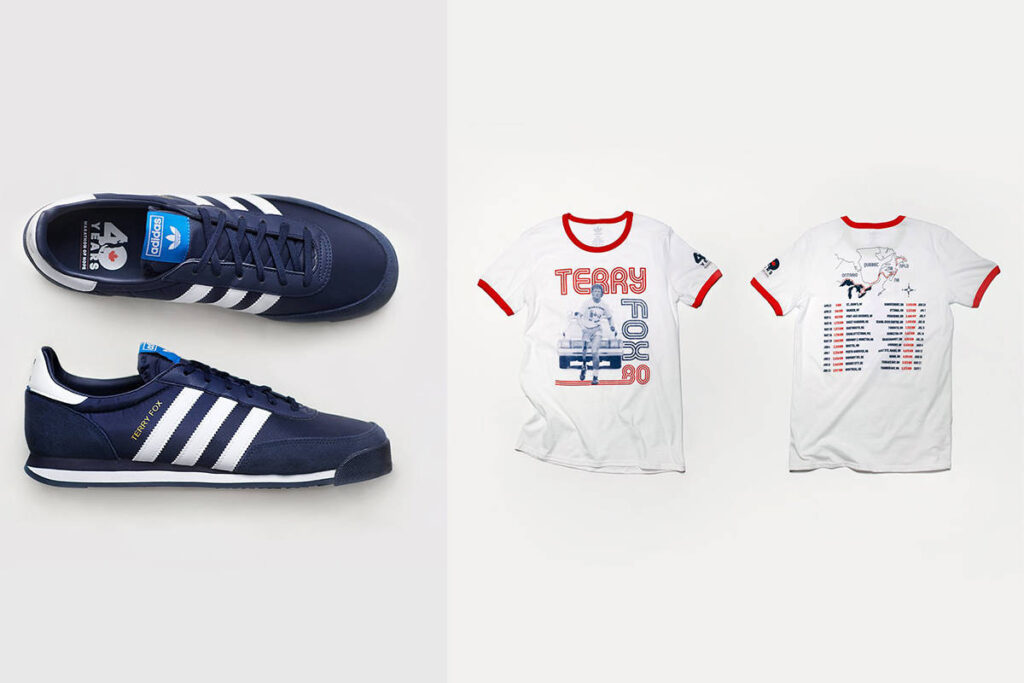 The words Fox said 40 years ago still ring true today "Even If I don't finish we need others to continue. It's got to continue without me."
That's it for this post. Be sure to follow us on Instagram and Facebook using the icons below.