25 Years Later Jimmy Valvano is Still Beating Cancer ​
"My First impression was he was nuts, my second impression was he was nuts, and my impression of him as an adult, as a coach, was he was nuts," Lloyd chuckled as he remembered his teammate, floor mate, and best friend, Jimmy Valvano. Valvano would use his crazy, boisterous personality to help save the lives of millions of people by creating the single greatest cancer-fighting force in the history of the world; The Jimmy V Foundation.
.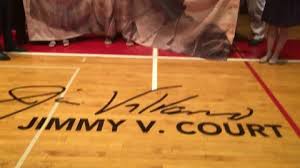 Jimmy V, as he would come to be called, led the North Carolina State Wolfpack to the NCAA National Championship in 1987. Not only did Jimmy V begin his coaching career at Rutgers, he played for the Scarlet Knights from 1965 – 1967. While he was a great basketball player and coach, it is his legacy of helping others that the sporting world remembers him for. I had the pleasure of meeting with Jimmy V's college teammate and CEO of his foundation, Bob Lloyd. Lloyd was Rutgers's first All- American, scoring 2045 points in three years with no three-point line. Lloyd went on to be drafted by the Detroit Pistons in 1967 and played professionally for two years with the New York Nets.
Lloyd explained that Jimmy Valvano was the same person from when he was a freshman in college to a championship winning coach. "He was just a great guy, a funny guy, a smart guy" Lloyd said.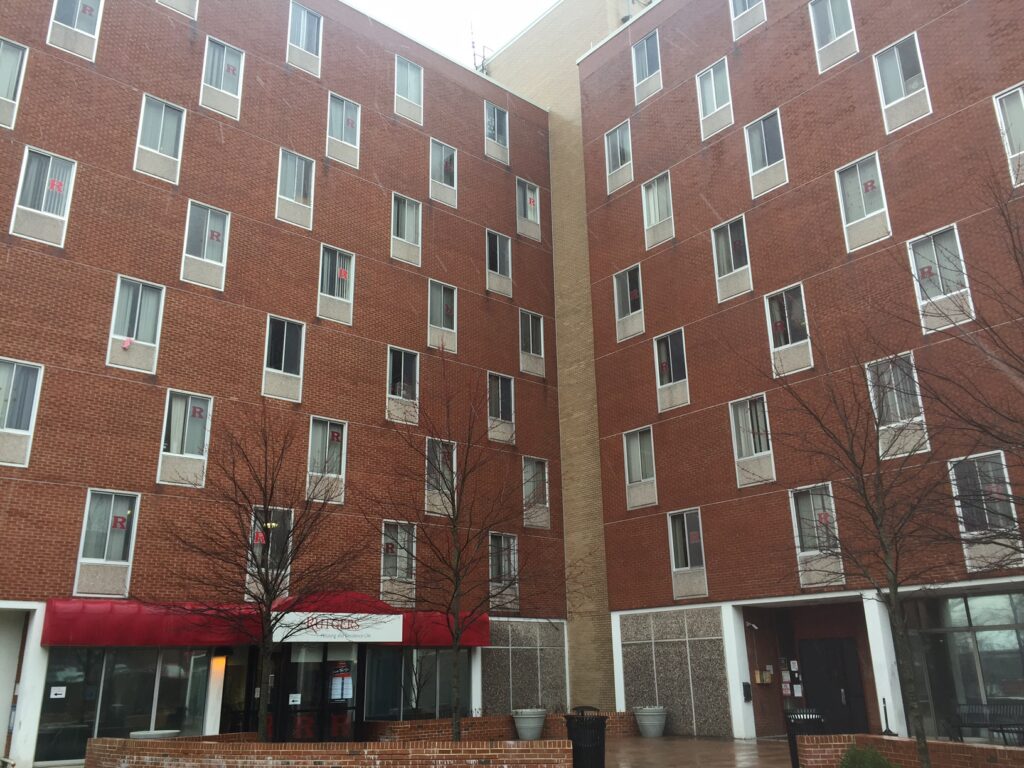 The Dorm where Valvano and Lloyd first met as Freshmen.
Photo by Ryan Sahlin
Valvano's personality could be seen through his coaching style. Lloyd recalls a time when Valvano's team was uptight. During a timeout, he walked over to the ref and asked if he could get a technical foul for thinking something. When the Ref said no, Valvano said "Well good, I think you are a rotten Ref!" After getting the technical foul, he went back and told his team what happened. When asked later why he did that, Valvano said he was just trying to get his team to relax and laugh.
Even though Jimmy Valvano loved to have fun, on the court he was described as a tenacious defender. Lloyd attributes Valvano with great athleticism which helped him on both sides of the ball. According to Lloyd "the mark of a great player was if they could score more than 1000 points in three years." Valvano scored 1,122 points as a Scarlet Knight. Lloyd pointed out that Valvano did this when Lloyd had the ball all the time.
The two players worked so well together that former Rutgers assistant coach and ESPN college basketball broadcaster, Dick Vitale, has said the two-guard pair could go against any guards in today's game.
Lloyd and Valvano combined for 1,335 points as seniors in 1967, helping the school get to its first National Invitation Tournament (NIT) which was more prestigious than the NCAA tournament at the time.
In one game during the tournament, the team was playing in Madison Square Garden. They were down by one and Lloyd made one of two free throws to send the game into overtime. Right before he was about to take the shot, Valvano whispered in his ear, "Lloyd you got us into this mess, now get us out!"
From Player to Coach
Jim Valvano's father, Rocco, was a tremendous high school coach on Long Island and after graduating from Rutgers, Valvano followed in his father's footsteps. Valvano coached at Johns Hopkins and Bucknell before becoming the head coach at NC State. As a basketball coach, Valvano was able to showcase his great mind for basketball and his ability to inspire his players. "I would tell everyone that Jimmy would be thought of like John Wooden one day," Lloyd said. "He will be remembered as this great inventive coach."
One of the innovative strategies that Valvano was known for was the tactical foul in the last few minutes of the game.
During the 1983 season, there was no shot clock. Teams with the lead could just hold on to the ball and run out the clock. Valvano came up with the idea of fouling the players to stop the clock and give his team the opportunity to get the ball back. This is standard practice today, but at the time, it was crazy because it was seen as giving up points on the free throw.
"Jimmy knew that he didn't have a really talented team," Lloyd said, referring to the NC State team. "He thought, what's a rule that I can exploit that would let me beat another team. That was the intentional foul." This strategy became key in the NCAA tournament.
In seven of their last nine victories, NC State was down in the last minute of the game. In the first round of the NCAA tournament, they were down by six in the last minute against Pepperdine. This intentional foul strategy helped them battle back to win the game. The Wolfpack was the ultimate underdog coming into the tournament, no pun intended.
They became the first ten loss team ever to win the tournament in NCAA history. The run was so incredible that the last second dunk to win the tournament was voted the No 1. sports moment in the 20th century.
Lloyd explained that winning the NCAA tournament was always a dream for Valvano. "He used to tell us in college that he was going to win it and he did."
Seven years after winning a Championship, Valvano was forced to leave NC State. A book was published that detailed misconduct within the NC State basketball organization. According to the book, players were being paid and were accused of point shaving.
Although Valvano was never implicated in the investigation, he was forced to resign on April 8th, 1990.
Every year, Valvano would invite all of his friends to play in an annual golf outing called the Rider Cup. One year, Lloyd's partner was the lead investigator in the case against NC State. When Lloyd asked why he was there, the man said that Jimmy had invited him.
He told Lloyd that the only thing that Valvano was guilty of was letting his players sell their sneakers to pay for their trips home for holidays. The man added, "if I had a son that was good enough to play ball I'd want him to play for Jimmy."
The Legacy of Jimmy V
In 1992 Valvano was diagnosed with a form of cancer called Metastatic Adenocarcinoma. This spread to his bones making him very sick. Even though Valvano knew the cancer was terminal, he chose to keep fighting, undergoing numerous experimental treatments.
It's difficult to explain how much Valvano meant to the sporting world and everyone who knew him. While still very sick, Valvano was called to New York to accept an award at the ESPY's, an annual sports award show.
On March 4, 1993, at the award show, Valvano announced the creation of the Jimmy V Foundation, an organization whose sole purpose is to defeat cancer. Please take the time to watch this clip.
When Valvano was diagnosed, Lloyd made it a point to be with him at times when no one else was. Lloyd says that he would go down to North Carolina if Jimmy was alone. Lloyd would also drive to Connecticut to be with Valvano on the set of Big Monday basketball where Valvano was an analyst. It was after these shows that Valvano and Lloyd would go back to their hotel and talk for hours. It was here that Valvano first asked Lloyd to be a part of the Jimmy V Foundation.
Lloyd stated "I just have tremendous respect for Jim. Instead of saying woe is me and feeling sorry for himself, he created the Jimmy V Foundation, so this wouldn't happen to another person. That takes a lot of courage and foresight and that was Jim."
Over twenty-five years later, the Jimmy V Foundation raises about 125 million dollars for cancer research each year. The Foundation's scientific advisory board includes 20 of the top cancer doctors from the leading research centers from around the country. These doctors decide where the money goes based on competitive proposals.
What sets the V foundation apart from others is the fact that they raised their endowment. This means that they use interest from stocks to pay their overhead and that one hundred percent of every dollar goes to the V Foundation.
Anyone who would like to donate can click or call 1800-4jimmyV. We all know someone who has been affected by cancer in some way, but it's like Valvano said 25 years ago, "Don't give up, don't ever give up."