Warrick Dunn's Homes for the Holidays Helps Families this Christmas
We all know that there is no place like home for the holidays. While many people around the world enjoy taking this time of year to spend time at home with loved ones, for people who struggle to find permanent housing, this time of year can especially tough.
Since 1997 former Tampa bay Buccaneer's Running Back, Warrick Dunn, has stepped in to lend a hand through his charity Homes for the Holidays.

Homes for The Holidays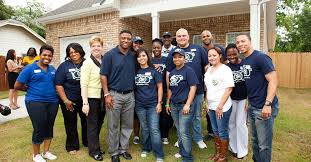 Dunn's inspiration for the charity comes from his mother, Betty Smothers, who struggled to make ends meet as a single mother. Smothers was a police officer who died in the line of duty in 1993. As the oldest Dunn, he used the insurance money to buy a house for his siblings at the age of 18. Four years later, in his rookie year in the NFL, Homes for the Holidays was born.
The organization builds fully furnished houses for single parents. Their mission states, "Our focus is on providing a hand-up – not a handout – to single parents and their children. We surprise single-parent families (who are actively working to support themselves) with home furnishings and down payment assistance."
In the 22 years since the inception of the organization, they have provided 176 homes for families across the nation.
From One Football Player to Another

In 2006, Houston Texans quarterback, Deshaun Watson, moved into an HFTH house. Watson told the Associated Press about the impact the house had on his family. "I felt grown to have my own room," Watson recalled. "Just having my own bed, not really being squished, not really worrying about someone sneaking up on me, it was a great moment, a special moment."
Warrick Dunn has been providing special moments like these for countless families across the nation. If you would like to know how to help or donate, please click here.
The holidays can get so crazy and busy with all the things we have to get done, and it is important to find the time to enjoy our families and to be thankful for what we have.
I hope everyone has a great Holiday and a very Merry Christmas.