Tyrann Mathieu: From Jail to Super Bowl Champion
The Honey Badger is known for its toughness and grit. It is famous for doing whatever it takes to get what it wants. It will even bite through a turtle shell to get a meal. The Guinness Book of World Records named the animal "world's most fearless creature." Like the animal, Tyrann Mathieu was nicknamed the Honey Badger for his incredible toughness on the field, but his toughness goes way beyond the gridiron.
The Humble Beginnings of Tyrann Mathieu
Mathieu was born on May 13, 1992 in New Orleans, Louisiana. Growing up in the "big easy" was anything but. As a baby, he was abandoned by his mother, leaving him to be raised by his grandparents. His father was sent to jail for murder when he was two, and his grandfather died of a heart attack, due to a heroin addiction. These are some of the many losses he had to deal with growing up. Things went from bad to worse for young Mathieu. He was adopted by his uncle and moved in with him, right before Hurricane Katrina came and destroyed their home, forcing them to relocate to Texas for a year.
Mathieu told Bleacher Report that he turned to the drug marijuana to deal with the pressures of daily life. In an interview with ESPN personality Jay Glazer, he admitted he started smoking pot as early as 12 years old.
On the football field, Mathieu was a star. As a Senior at Saint Augustine High School he had over 30 tackles along with one sack and an interception to boot. By the time he graduated, he was ranked the No 13 cornerback in the nation.
The Rise and Fall of the Honey Badger
Mathieu received a scholarship to LSU, where he exploded on the national stage to become a household name. His freshman year he had 59 tackles, three sacks and a pair of interceptions in 13 games. In his Sophomore year, he continued his stellar play, recording 77 tackles and 1.5 sacks. He also returned 2 out of 4 interceptions for touchdowns. This stat line earned him defensive player of the year and a spot as a Heisman Trophy finalist.
In 2012, after his Sophomore year in college, Mathieu was kicked out of school for violating team rules due to a failed drug test. In August of that year, he was arrested with other teammates for possession of marijuana.
A Mentor Steps in to Help
When incarcerated, Mathieu was at his lowest point. He told CBS Sports that he contemplated suicide, but his cellmate was able to talk him down. After being released from jail, former LSU teammate, and then Arizona Cardinal Patrick Peterson, took Mathieu under his wing. The two were so close during their time at LSU that Mathieu had changed his number to Patrick's number 7 after he had graduated. Now, the older Peterson became, not just Mathieu's friend, but his mentor.
Peterson moved Mathieu to Florida to get ready for the NFL combine with his father, Speed Coach, Patrick Peterson Sr. He also vouched for his friend within the Cardinals organization. The plan worked. In 2013, he was drafted in the 3rd round by the Cardinals.
The Journey to Super Bowl Champion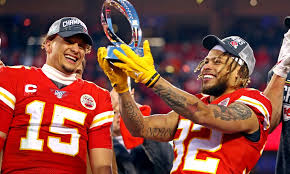 The gamble paid off for the Cardinals. In his rookie season, Mathieu was named an All-Pro as a cornerback by Pro Football Focus. Over six years and three teams, Mathieu has totaled 472 tackles and 9 sacks. In 2019, he was named 95th in the NFL top 100 list. In the 2019 season, he helped his team grind out a Super Bowl win, the first for the Kansas City Chiefs in 50 years.
Today Mathieu is a more mature and focused person. In a 2015 interview with Jay Glazer, Mathieu explained how he is a different person then he was in college, but he won't forget the lesson it taught him.
You have to fall back down to get back up. To be the person you want to be, this thing (life) has to beat you up. Once you get through it, you find out who you really are."
We can all benefit from this mindset; whatever you are going through, don't give up because you never know what the future holds.
That's it for this post. If you would like to see more inspiring and positive sports stories, follow our Facebook page and Instagram by using the links below. If you would like more NFL stories chick here